BOXXERWORLD BECOMES WORLD'S RINGWEAR NO1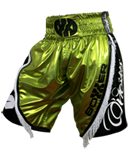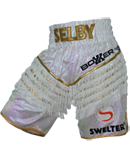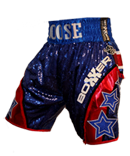 Laura Saperstein's brain child www.boXXerworld.com has become the forerunner of bespoke ringwear for the world's top boxers. Boasting clients such as Mikkel Kessler, Roy Jones Jnr, Nathan Cleverly, Kevin Mitchell and Australia's Anthony Mundine, BoXXerworld has undoubtedly become the choice of couture stylists among the stars. Laura and her team use a combination of a constant creativity, new materials and personal customer service to give their boxers the edge. "Being a professional boxer myself, I know how important it is for my guys to feel their best when they get in the ring. It can be the difference between a good performance and a great performance. It's also essential to minimize their stress in the lead up to a fight and I absolutely insist upon taking that stress away from them."
BoXXerworld is the only company in the world to do professional graphic designs of every garment produced, believing it's essential to achieve excellence of design and eliminate errors. The company has also developed and tested all their own garment patterns over several years, believing what was available on the market was not good enough. "In my opinion a lot of the jackets available looked like pajama tops and the shorts designs were too narrow in the leg or just not right in the crotch…. It took years of designing and redesigning to get our garments just right. We are constantly developing new products to offer something better," says Laura.
With the right colour combinations and bright, vibrant designs being essential in front of TV cameras, BoXXerworld's materials have also taken years of combing the world's fabric markets to find. The results of this hard work have paid off, with many of the UK and Europe's champions now appearing on Fight Night wearing BoXXer products.
BoXXerworld has now launched it's ready to wear range, with affordable high quality in-stock boxing shorts available in the brand's trade-mark unique designs. The range also features many quick-dry, moisture wicking garments designed to keep athletes dry and comfortable during training and in the ring. Laura has been the first to use stretch polyester as standard in her training shorts designs to allow boxers and other martial artists full range of movement during cross training and stretching. "We believe what most boxers and martial artists wear in training is woefully inadequate for elite athletes. But there has been very little available that really works for the sport and also looks right for how we feel. What our range does is provide for both our technical needs and makes us look great!"
BoXXerworld has also developed a full range for female martial artists.
LAURA SPEAKS OUT ON WOMEN'S BOXING SKIRTS ISSUE & THE OLYMPIC GAMES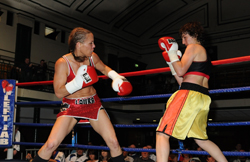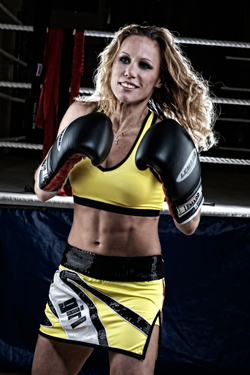 The International Amateur Boxing Association's mooted plans to require female boxers to wear skirts in the London Olympic Games has caused an international outcry, focussing international media attention on the sport. An online petition has gathered upwards of 50,000 signatures against the idea of female boxers being forced into skirts.
Despite the Olympics being only being months away and teams around the world needing to make their team uniforms, the decision has not yet been made and no time frame has yet been given.
Laura has created an album showing the difference between women's boxing skirts and shorts:
http://www.boxxerworld.com/special-gallery/boxing-skirts-versus-boxing-shorts
As the founder of a business which makes high end boxing gear for many of the world's top boxers such as Roy Jones Jr, Mikkel Kessler, Nathan Cleverly and Kevin Mitchell, Laura Saperstein has recently been asked to produce designs for gear for the Ireland boxing team (through ASICS). Katie Taylor boxes for Ireland and is one of the most successful female amateur boxers ever (she is yet to be defeated in multiple world and European Championships) and Katie has steadfastly refused to be seen in a skirt and says she will not be wearing one in the Olympics no matter what anyone says.
BoXXerworld has produced a sample outfit for team Ireland but I don't know what to make for Katie.
http://www.boxxerworld.com/custom-fightwear/boxing-shorts/boxxer-basics-%C2%A390-%C2%A3130/olympics-ireland-team
Personally, Laura prefer skirts. "I have worn both skirts and shorts over the course of many fights and I think skirts are much more comfortable. They are made from performance stretch fabrics and do not have the large stretch waist bands of boxing shorts which are traditionally needed to accommodate bulky male protectors. I also think they suite the female form better. Although different styles shorts can look good on women as well."
"However, an important point here is that female boxers are finally about to have their big opportunity to perform on a world stage and in front of an audience they always been denied in the past. They should have the opportunity to get used to what they are going to be wearing long in advance and be involved in a consultation process, not have that decision pressed upon them at the last minute. This will lead to many of them feeling self conscious and distressed at a time they should be feeling their most confident"
Further, as a maker of sportswear, Laura knows how long it takes to develop and refine quality garments… this is not something that can be done in a few weeks. Laura believes that a proper consultation process should have been commenced with female boxers more than a year before the gamers were to commence to give everyone a time to adjust to any new uniform and to give proper time for the new garments to be developed. To get in touch with Laura, visit our contact page.
SAPERSTEIN VICTORIOUS IN TOUGH 11TH OUTING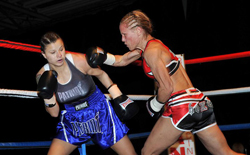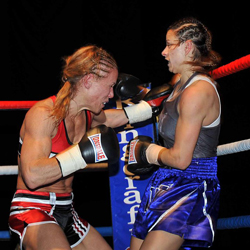 Laura Saperstein battled to a narrow points victory against her toughest opponent yet, Milena Koleva, while also at her lightest weight yet in December 2010. The plucky Aussie turn Brit also had to battle freezing conditions and narrowly avoided missing the fight at Doncaster Dome due to snow storms. She was forced to find a replacement coach and finish her last two weeks of training alone as her coach fought off pneumonia and was unable to attend hospital appointments after being snowed into his home. Laura took the fight at featherweight (57 kg), having boxed opponents right up to light welterweight (64kg) over the course of her 11 pro contests. The 6 round fight was an excellent technical bout against a come forward, aggressive boxer (Saperstein) and a quick-on-her-feet counter puncher (Koleva). Undefeated, Koleva of Bulgaria was constantly on the move during the six round fight, always able to get out of trouble and return fire with her own salvo of hard shots on the back foot. Koleva rocked Saperstein for the first time in her career with some explosive hooks in the fourth round, forcing the home fighter to take a more defensive approach to ensure victory. Saperstein showed her best skills in this fight against a talented opponent who has gone on to fight many of the best female champions in Europe including Ina Menzer and Delphine Persoon. To watch video http://www.youtube.com/watch?v=JJfo_SltAoE
SAPERSTEIN REMAINS UNBEATEN IN TEN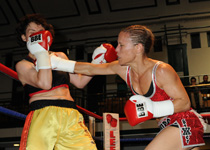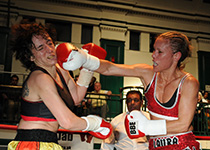 Laura Saperstein boxed again at York Hall Bethnall Green on Sunday night 20 June 2010 and remains UNDEFEATED in a milestone TEN fights.
Laura gave away nearly a stone in weight to tough veteran of 32 pro fights, Bulgarian Borislava Goranova, but impressed with her technical skills, winning all six rounds to cruise to a comfortable points victory.
"Despite the weight difference I felt very comfortable and relaxed in the ring. I finally don't feel like the new kid on the block any more, having earned my stripes quietly at home and abroad. I'm not the "decent girl boxer" now; i'm just a decent boxer and i'm starting to enjoy myself knowing I deserve my place on that stage."
Laura has been offered a word title fight, but the Aussie-born English citizien wants to purse an English and British title fight first within the next few months.
"Financially it's very difficult, and it might be easier with a big title behind me, but I've wanted to do things the right way round and having a legitimate English or British Title behind me and boxing next to the men I've grown alongside in the gym would be a dream come true".
Read about Laura's fight in the Jewish Chronicle at:
Saperstein Lines British Title Challenge
LAURA TAKES PART IN HISTORIC ALBANIA SHOWL
Laura will be in action again at London's York Hall, Bethnall Green on 20 June 2010, following a controversial majority decision draw in her Ninth pro fight in Tirana, Albania.
Laura took on the very experienced pro and talented amateur, Daniela David from Romania, over 6 rounds on the under card of the May 2 WBF World Title fight between Kresnik Qato of Albania and Estbeban Ponce from Argentina. Laura says it was a great honour to box on a Live TV show immediately before a World Title Fight and to take part in the first ever female boxing contest in Albania.
"The promoters saw me box in London and invited me to come to Albania to take part in their historic World Title Show as part of the World Boxing Federation International Conference. They looked after us like royalty, even providing a police escort from the airport to our hotel and putting on a red carpet boxing event that left nothing out. There were dancing girls and huge Rottweiler dogs lead us into the ring. It was quite a show! In between rounds I had to try to focus and not watch video replays of the previous round that were being showed on massive screens next to the ring. "
Laura admits to being pushed during her first six round experience but believes the decision should have given her a 9th clear victory. "It was a tough fight; Daniela is a very experienced boxer". Saperstein refers to the fact that David has been in ten-round World Title fights on four previous occasions and has and has 25 pro fights and 71 amateur fights to Saperstein's 9 pro fights and 10 amateur fights.
"She is a southpaw and normally boxes a weight category above me. I have to admit I got a surprise and it took me a couple of rounds to adjust; I missed with shots and struggled with my timing more than usual, having never boxed a southpaw before, which is more confusing that you may think! I still believe i clearly won the fight but you can judge for yourself!"
Video of the fight can be viewed at:
Laura is now in discussions over Title fights later in the year and expects to announce details soon. "I'd like a rematch with David to put the matter to bed once and for all but I need to think carefully about what's going to be the best next step for my career now. Each time you box you learn new things both inside and outside of the ring; for example, the Albania experience was a whole new set of circumstances to adjust to. It's really important to get the experience before jumping in at the deep and getting unwelcome surprises. But it's just about time to move onto the big challenges now."
Tickets for Laura's June 20 fight wil be available here very soon.
LAURA WINS 8TH PRO FIGHT AND SETS SIGHTS ON TITLE
On 21 March 2010 at York Hall, Bethnall Green, London, Laura Saperstein made it eight straight wins in her pro career so far against Welsh Super Featherweight, Lana Cooper. Laura now has her sights firmly set on domestic and international Titles in 2010. In the immediate future she is looking for opportunities to box over longer rounds either in the UK or abroad. Laura is actively seeking opponents at Super Featherweight and hopes to secure sponsorship to help towards her Title ambitions this year. Any opportunities should be directed to the Contacts to page of this site.
For a full fight report and pictures go to:
http://www.womenboxing.com/NEWS2010/news032510saperstein.htm
Video can be seen at :
http://www.youtube.com/watch?v=WKqs3QIuUsE
Laura takes clear victory in 7th pro fight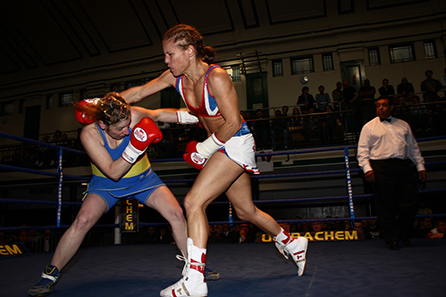 Giving away 9 pounds in weight, working with a new coach, and taking on late replacement Galina Gumliiska of Bulgaria, Saperstein managed to turn around difficult circumstances to score a decisive victory at York Hall, Bethnall Green, London on mother's day (22 March 09).
"It was pretty stressful stuff; late on the Wednesday night I got a call from promoter Miranda Carter, to say my scheduled opponent, Lana Cooper, had pulled out with the flu. I couldn't believe it as I'd battled twice with the flu in the three weeks before the fight but was still willing to get in there!" says Laura.
The Saperstein camp spent the next three days making frantic arrangements to find a replacement and fly in the Bulgarian veteran of 24 fights just in time for the Sunday event.
"We were all in a bit of a panic, trying to get everything cleared with the boxing board and making all the travel arrangements. I had no idea what weight my opponent would be and knew she was very experienced, having been in with several champions. I was doing media interviews, running around finalising ticket sales and worrying about what shoes I was going to wear after the fight!" Saperstein laughs.
"As it happens I chose some that nearly crippled me! Next time it's Ugg Boots for sure!".
Saperstein began the fight working behind the jab but, spurred on by an increasingly vocal crowd, she managed to land some solid straight rights and left hooks through the second and third rounds, coming tantalisingly close to a stoppage victory, but not quite close enough. The fight went to the score cards with a unanimous 36-40 decision, Saperstein winning each round convincingly.
Laura is now considering her next move, wanting to get back in the ring again as soon as possible to work on the improvements she and her coach have earmarked from her most recent fight.
"I'll be moving up to six rounds for my next fight, which is going to be a whole new experience for me and involve different preparation from what I've been used to. I'm hoping to reach the point where I feel ready to challenge for a title this year. It's already been offered to me several times but I believe I need more rounds and more experience under my belt before I will feel comfortable calling myself a valid contender."
Watch this space!
Laura's 7th Pro Fight
York Hall, Bethnall Green, London, Sunday 22 March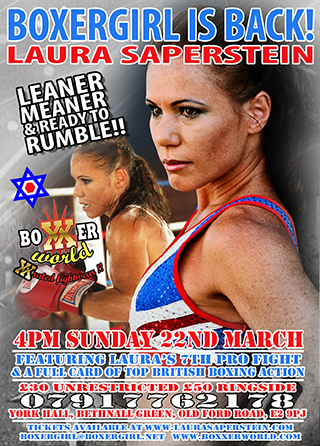 After a nine month absence from the British boxing scene, Laura has teamed up with the UK's only female promoter, Miranda Carter, to stage her comeback at London's spiritual home of boxing, York Hall."It been a long time away from home, so I'm thrilled to be returning to box at York Hall. I've really missed my British friends and supporters."
Laura has spent the last nine months boxing, training and starting a new boxing-related business, boXXerWorld, in Thailand. During that time she has had three fights and her record now stand at 6-0. You can read all about boXXerWorld and see Laura's unique fight-wear designs on www.boXXerWorld.com. "Getting a whole new venture up and running and learning about clothing design has been a massive effort at the same time as training and fighting, so it's going to be great to get back home and just focus on training for a few weeks before the fight. "
Laura is looking forward to working with Miranda, who, she says, puts on exciting shows that keep the fans entertained.
"I'm particularly thrilled that Miranda's shows are Sunday afternoon shows. The fact I'm not going to be boxing on a Friday night this time, means my Jewish supports will be able to come along! I've designed a special new outfit for the fight that says something about all the different aspect of my heritage... my little secret for the moment!"
Laura will be boxing Welsh professional fighter, Lana Cooper, at Super-featherweight.
Tickets are only £30 (unrestricted) and £50 ringside. Available to purchase on the Tickets page of this site.